We appreciate your interest in our classes. Our 6-week Artist Series meet once a week for 3 hours and cost $195 per 6-week session. Our One-Day Workshops run from 9-4 p.m. and cost $79. Current studio members receive 20% off all classes offered at Artascope. We add workshops throughout the year, so be sure to check back for new listings. Looking to learn a particular technique but don't see it listed here? Send us a message with your request.
Events List Navigation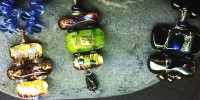 Earrings and necklaces, oh my! In this class you'll learn the simple process of cutting art glass, designing jewelry, as well as the basics of how glass is fused in a kiln. Participants will use colorful, fusible glass and a variety of templates to create colorful glass earrings and a cabochon for a necklace. You'll also learn basic wire working techniques to make your own jewelry findings. Workshop fee does not include materials. Supply kit available at Artascope for $25 or…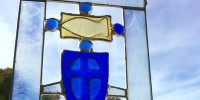 Add a touch of sparkle to your home while learning the secrets of stained glass. Your decorative panel becomes even more fanciful as we show you how to incorporate elements like fused glass and glass stones into your design. The experienced and the beginner will benefit from detailed lessons on working the temperamental behaviors of glass. You will learn the basics of stained glass with instruction in cutting, grinding, copper foil taping and soldering. We will have an hour break for…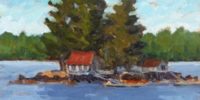 Painting on a Time Budget – Daily Painting Bobbi Heath will explain techniques, materials, and a practical approach to getting the most out of your painting time and increasing your skill level. The workshop will consist of exercises focused on creating a small finished painting in a short session. Bobbi will demonstrate techniques that will help you paint faster and with more confidence, and discuss subjects and reference materials particularly suited to this approach. Students may paint with water-based oils,…
+ Export Listed Events
Interested in teaching at Artascope? Submit your proposal here.